North America's Natural Wonders – Great Smoky Mountains National Park
North America´s most frequented National Park, with over 9 million visitors each year has a lot more to offer than flower pilgrimages in spring and the colorful trees in autumn.
Description
---
The Great Smoky Mountains National Park is well known for its vast forests, for its lush green meadows and for the beautiful autumn colors. This film shows how much more there is to this marvellous area.
The changing seasons bring new growth and colors, and continually unfolding dramas right under our eyes. This programme uses high definition technology, hidden cameras, slow-motion filming and powerful macro lenses to reveal the life behind the lookouts of the GSMNP. Nocturnal animals are captured with infra-red cameras, and the changing seasons and unfurling flowers are brought to life with breath-taking time-lapse photography.
When winter gives way to spring the Black bears appear – hungry from going without nutrition for months and followed by their new cubs that were born during the winter. The migrating birds start to return and together with those bird species who spent the winter here they start to build their nests. A Great-crested Flycatcher decorates its nest rather unusually – it uses a snakeskin as flying squirrel repellent.
Detailed time-lapses of spring flowers show which parts of the plants will be attracting their preferred pollinator and underwater the multi-colored fish fauna of the Little River is busy building nests, displaying and laying eggs. The River chub male carries rocks as large as its head to attract a willing female.
One of the greatest natural wonders of the GSMNP is the natural firework started by the millions of fireflies that aggregate in some valleys in early summer. In summer of the year the Black bear dung consists almost exclusively of cherry seeds, these seeds attract Deer Mice, they carry them to their subterranean caches, the mice are prey to many predators, this results in abandoned seed caches. In the following spring these seeds will germinate, thus closing the circle.
The Great Smoky Mountains National Park is the world's capital of salamanders. More than 30 species call these mountains their home. Some species, such as Jordan´s Salamander, occur only here.
Autumn is the season of plenty for the wildlife of the GSMNP. Black bears browse for fruits not only on the ground but also in the tree crowns. The Ruby-throated hummingbirds have to gain enough strength for their 500 mile nonstop flight accross the Gulf of Mexico. Spectacular Cardinal Flowers provide for the tiny travelers.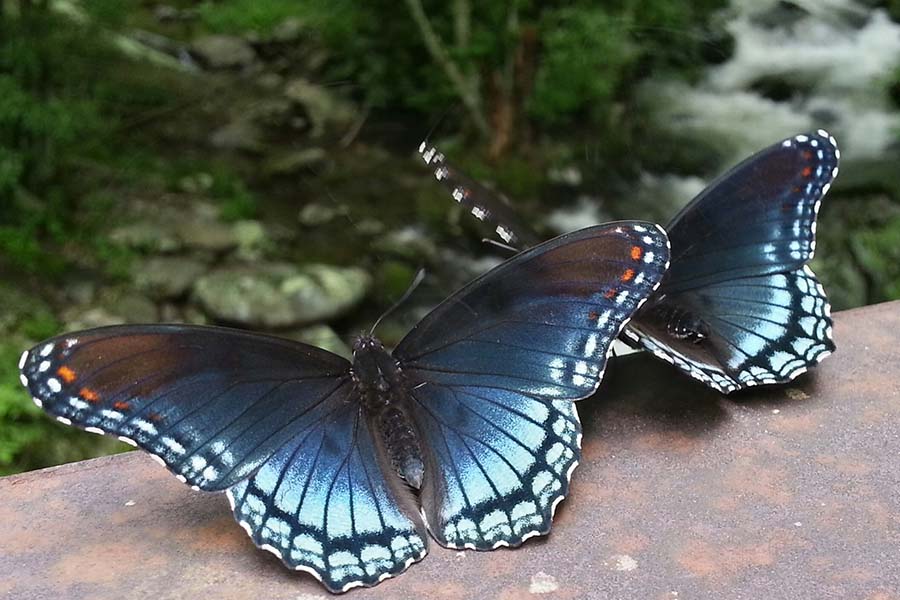 North America's Natural Wonders – Great Smoky Mountains National Park
Duration 45 minutes / 50 minutes
Produced by NDR, ARTE, ORF, National Geographic